Advasil ® Conform - Silicone gel sheet for scar management (10x15cm - 1 pcs)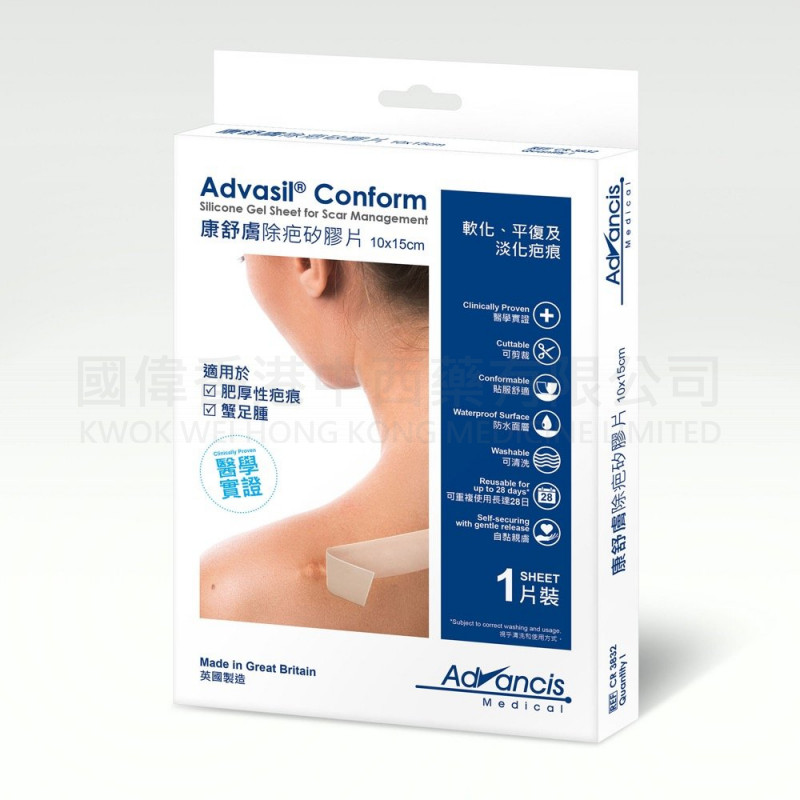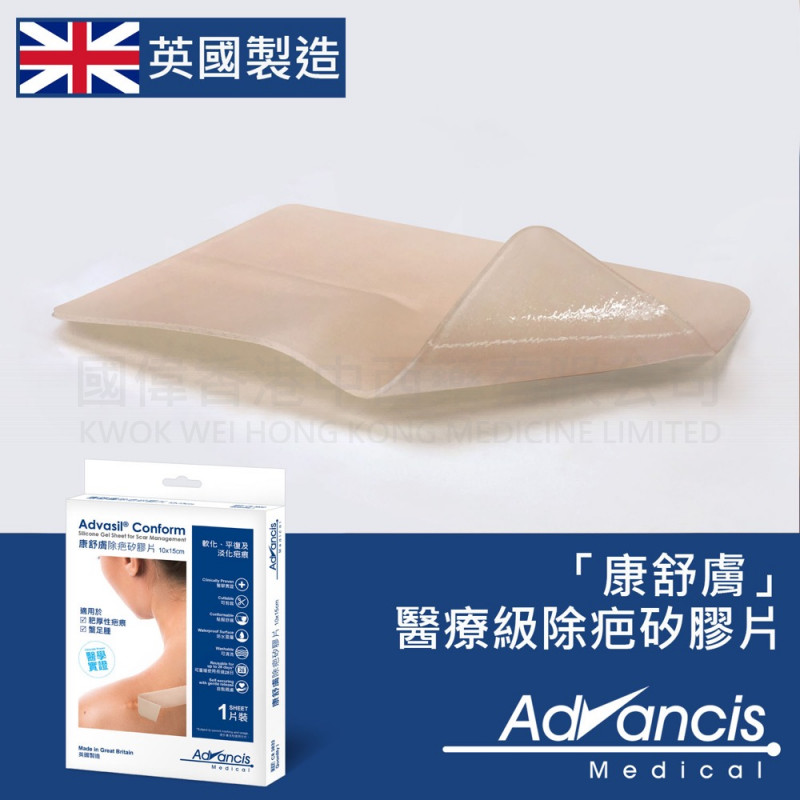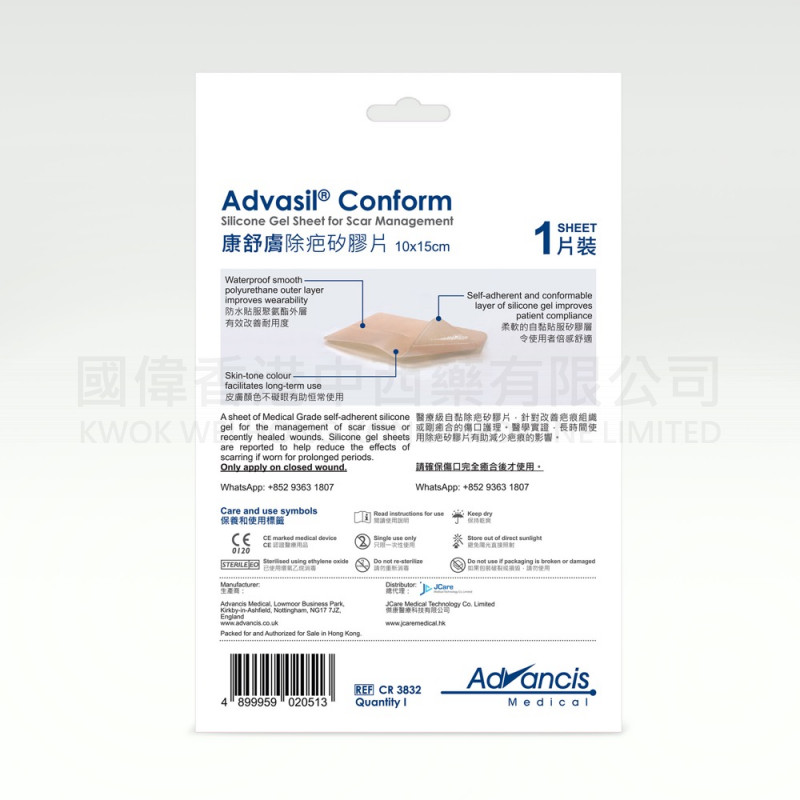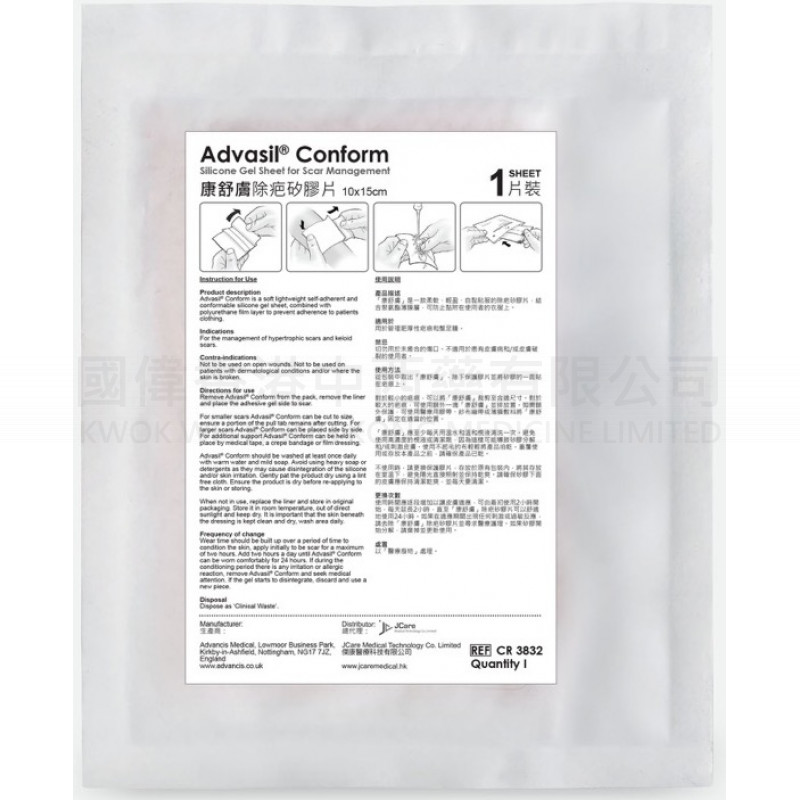 Advasil ® Conform - Silicone gel sheet for scar management (10x15cm - 1 pcs)
Advasil ® Conform - Silicone gel sheet, which is directly imported from the United Kingdom, has been adopted by many public and private hospitals in Hong Kong, which is a professional, effective and quality guarantee.

​​Made in the UK, imported directly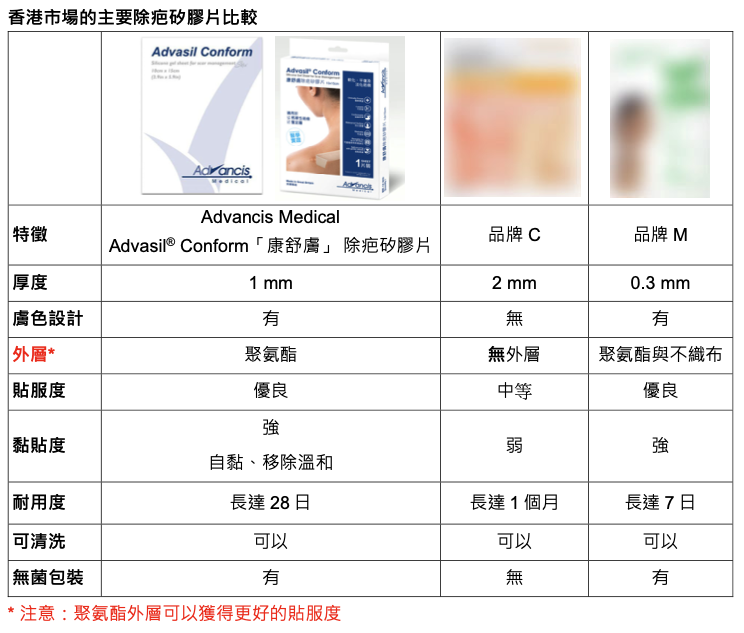 (*3 to 4 pieces can be cut for postpartum scar use)
Product Description
For improved scar tissue or newly healed wound care. The conformable silicone and smooth polyurethane outer layer can effectively improve durability and make users feel more comfortable. Matches the skin color and is not unsightly for regular use.
Medically proven, prolonged use of Scar Removal Silicone can help reduce the effects of scarring. Advasil® Conform - Silicone gel sheet is especially helpful in improving hypertrophic scars and swollen feet.
Advasil@ Conform - Silicone gel sheet is composed of a soft, lightweight, and easily shaped silicone layer and a smooth polyurethane outer layer that avoids sticking to clothing.
Suitable for scars including: hypertrophic scars and crab foot swelling

✓ Can be tailored to different sizes and shapes of scars
✓ Designed for natural skin tone for regular use
✓ Self-adhesive, gentle removal
✓ Washable
✓ Reusable up to 28 days*
Principles of treatment
Advasil® Conform - Silicone gel sheet can maintain a certain temperature, humidity, pressure and oxygen content in the scar, and the scar removal silicone sheet can hydrate the scar tissue and the tissue around the scar. Hydration inhibits the synthesis of fibroblasts, thereby reducing scarring.
Medical grade scar removal silicone sheet can increase the level of collagenase in scars. Collagenase can decompose excessive collagen, promote the normalization of collagen synthesis in pathological scars, and reduce collagen deposition.
Scar removal takes about 3 to 9 months. Clinically proven, regular use of medical grade scar removal silicone sheet can reduce the chance of hypertrophic scars or keloid scars, and can soften, smooth and lighten scars, thereby improving appearance and enhancing Be confident and reduce the daily troubles of scarring. Therefore, it is necessary to choose a piece of medical-grade scar removal silicone sheet that is comfortable, durable, close-fitting and natural, which can help to achieve the scar removal effect with regular use.
Indications
For hypertrophic scars and keloids
Specification:
10cm x 15cm (1 piece)
Instructions for use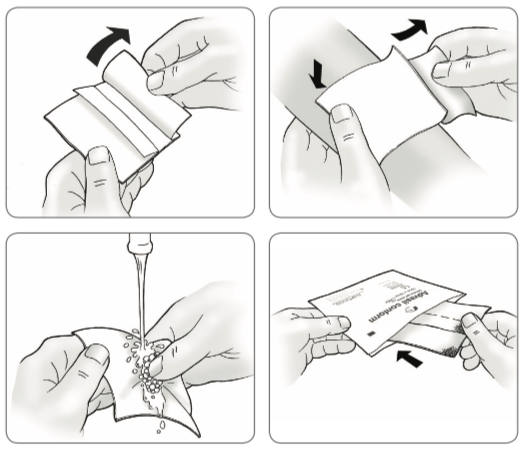 Open the package of Advasil@ Conform - Silicone gel sheet, tear off the liner, put the liner back in the original packaging, do not throw it away, and stick the Scar Removal Silicone on the scar. For smaller scars, Advasil® Conform - Silicone gel sheet can be cut according to the size of the scar, and for larger scars, Advasil® Conform - Silicone gel sheet can be used side by side. If necessary, the silicone patch can also be assisted by medical tape or transparent film dressing.
The scar removal silicone sticker should be washed at least once a day with warm water (cooler) or cold water to wash off the scum on the surface. When necessary, a small amount of soap can be used. Do not use a large amount of soap or detergent, which may cause silicone Ketones break down and/or irritate the skin.
Dab the Scar Removal Silicone Patch on a lint-free fabric until dry, or let it dry with the silicone side up to ensure the patch is dry before use or storage. When not in use, put back on the original liner, store in the original bag, make sure the skin under the silicone sticker is clean and dry, and wash it daily.
Replacement frequency
The use time of Advasil® Conform - Silicone gel sheet is gradually established according to the skin condition, starting with a maximum of 2 hours per day at first, and then extending by 2 hours per day until it can be used comfortably for 24 hours. Each tablet can be reused for up to 28 days. During this time, if any irritation or allergic reaction occurs, remove immediately and seek medical attention if necessary.
If the silicone patch starts to chip, replace it with a new one.
Contraindications
Do not use on broken skin or unhealed wounds, and those with silicone allergies should not use it.