African Sea-coconut Cough Mixture (177ml)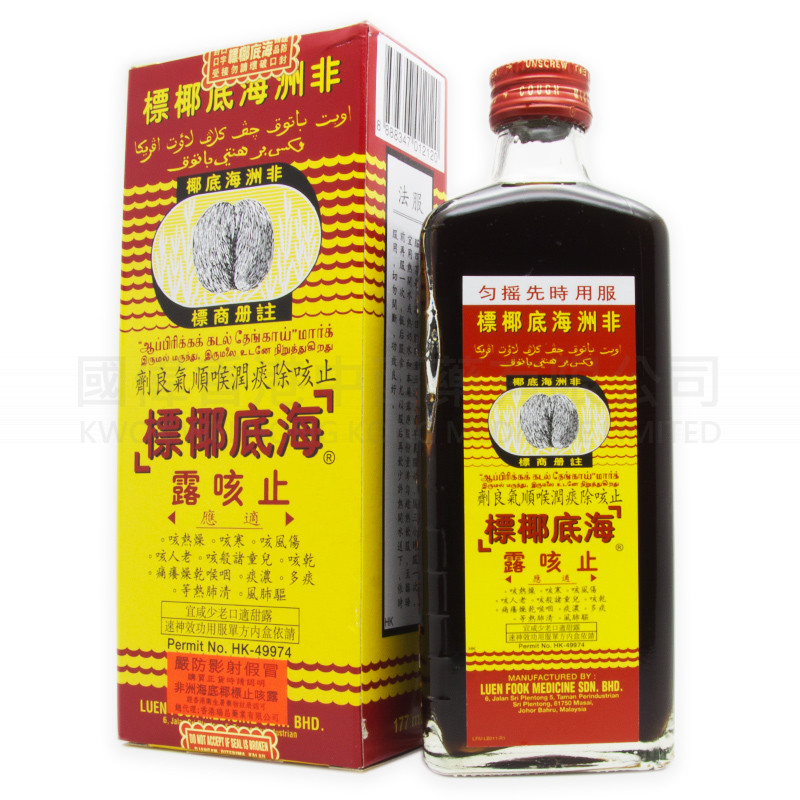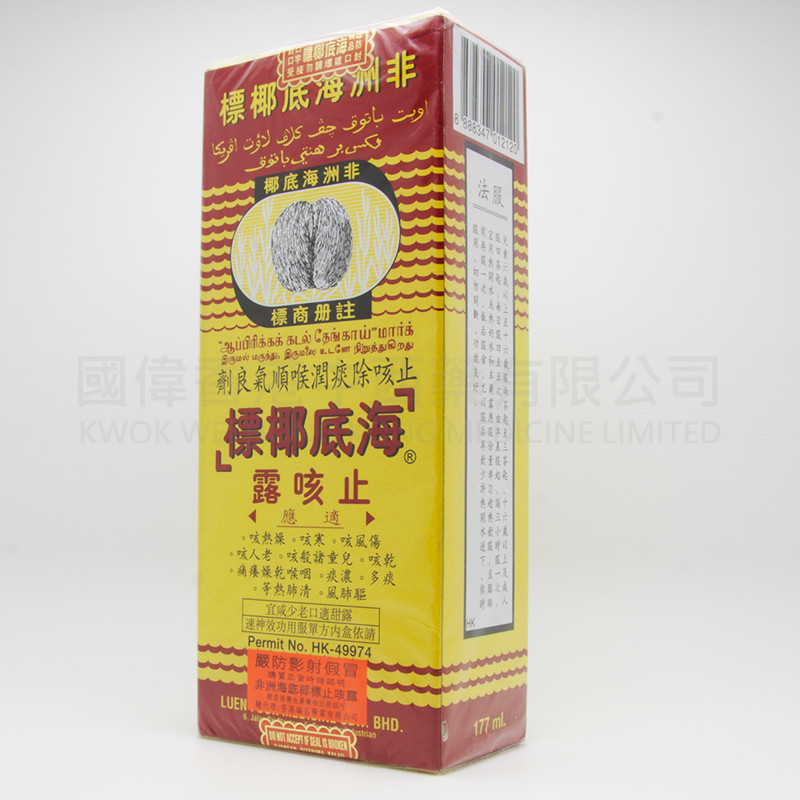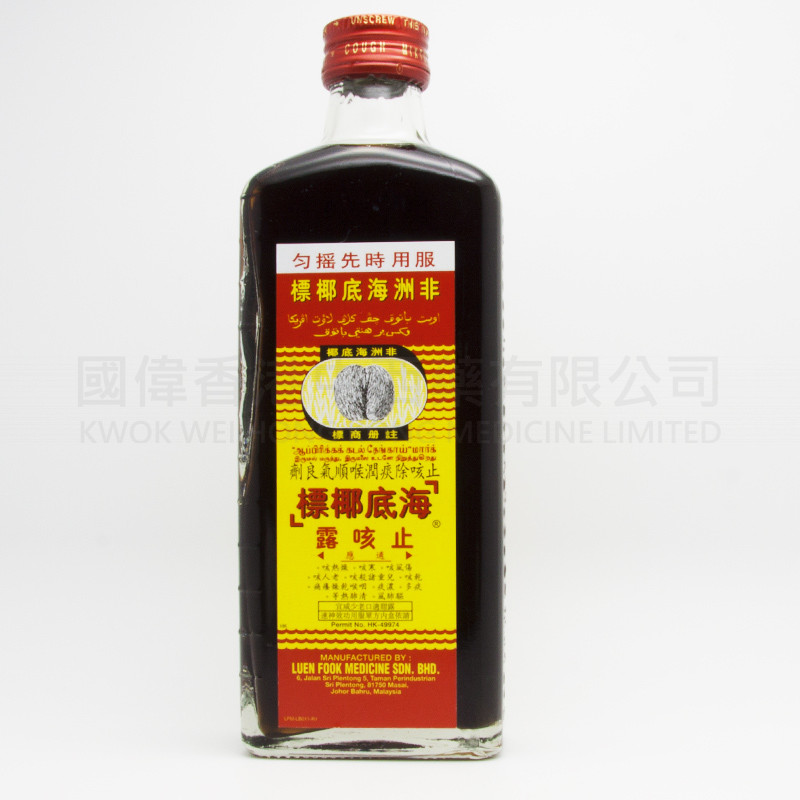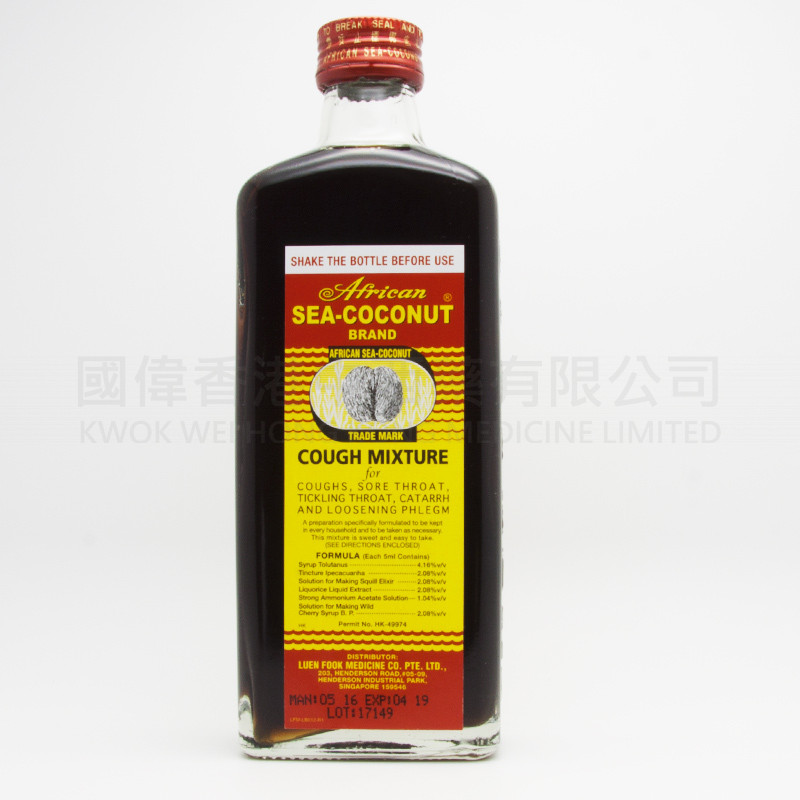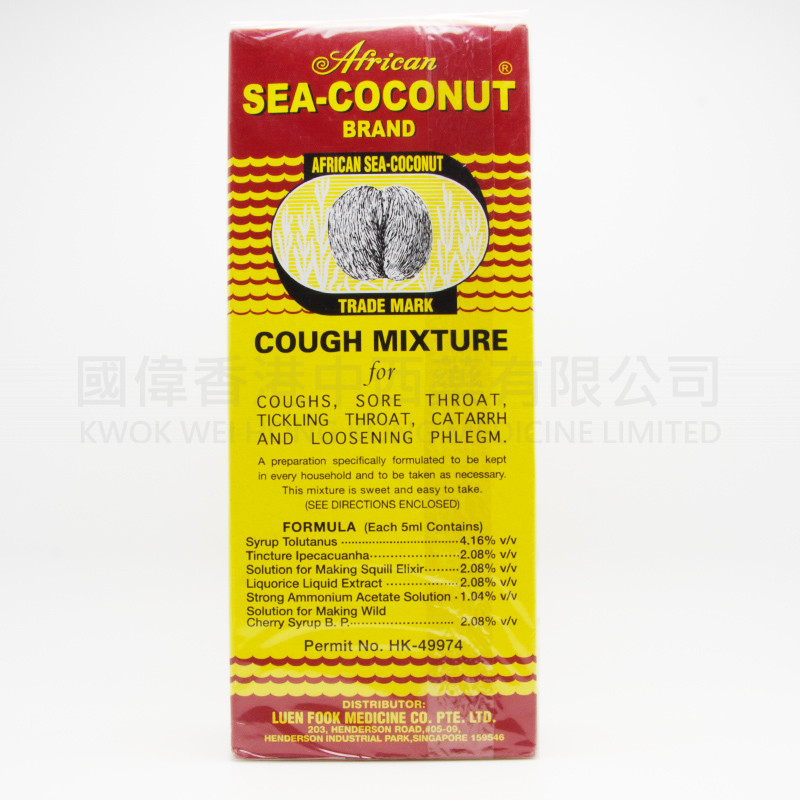 African Sea-coconut Cough Mixture (177ml)
Ia dibuat dengan bahan2 ilmiah yang spesifik, boleh disimpan dalam setiap rumah dan boleh diminum bila perlu.
Tjampuran ini boleh melonggarkan dahak dan meredakan batuk.
Obat batuk tjap "KELAPALAUT AFRIKA" meredakan batuk akibat sejuk, selsema dan gatal ditenggorokan, Ia melonggarkan dahak dan menyamankan kesakitan dan gatal ditenggorokan.
Peraturannja:
Terlebih dahulu botol digontjang. Tjampur ubat ini dengan isipadu air panas atau susu panas dengan ukuran yang sama. Diminum 4 atau 5 kali dengan djangka waktu tiap 3 jam. Untuk hasil jang lebih memuaskan, obat diminum sesudah sarapan pagi, 2 atau 3 kali sewaktu siang. Paling akhir, diminum sebelum tidur. Dinasehatkan meminum air panas selepas meminum obat. Ikut arahan tanpa gangguan.
Perhatian:
Untuk segera sehat dari batuk, radang tenggorokan, hendaklah mengwawal diri dari merokok dan meminum alcohol, makanan digoreng atau berlemak, kopi kari,makanan asam, cili, lada, buah2 an atau minuman sejuk.
Tjampuran ini manis da senang diminum.
Ukurannja:
Anak2 dari umur 6 S/D 16 tahun 2 S/D 3 sendok the.
Anak2 16 tahun ke atas dan orang dewasa 4 sendok the.
Bisa dibeli ditoko2 obat dan toko2 besar.
It is a preparation specifically formulated to be kept in every household and to be taken when necessary.
This mixture helps to loosen phlegm and relieve coughing.
"African Sea Coconut" brand cough mixture relieves coughs due to cold, flu, tickling throat. It loosens phlegm, and soothes sore throat and irritated throat.
Directions:
Before taking, shake the bottle well. Mix this mixture with equal volume of hot water or hot milk. Take it 4 or 5 times daily at intervals of 3 hours. For quick result, the first dose should be taken after breakfast and 2 or 3 doses during day time. The last dose of the day should be taken before retiring. It is advisable to take some hot water after each dose. These directions should be complied with uninterruptedly.
Ia adalah sediaan dirumus secara spesifik dan boleh disimpan dalam setiap rumah untuk digunakan bila perlu.
Ubat ini membantu mencairkan kahak dan melegakan batuk.
UBAT BATUK CAP "KELAPA LAUT AFRIKA" melegakan batuk akibat kesejukan, selsema dan gatal-gatal tekak. Ia mencairkan kahak dan melegakan sakit dan radang tekak.
ATURAN:
Goncang botol dahulu sebelum diminum. Campuranubd ubat dengan air panas atau susu panas yang sama banyak. Ambil 4 atau 5 kali sehari selang 3 jam. Untuk cepat sembuh ,ambil ubat pertama selepas sarapan dan 2 atau 3 dos pada siang hari, dos terakhir diminum sebelum tidur. Disyorkan minum air panas selepas meminum ubat batuk. Arahan ini perlu dipatuhi spenuhnya.
Perhation:
Untuk cepat sembuh dari batuk, radang tekak, dinasihatkan pesakit menghindarkan dari merokok, meminum alcohol, makanan digoreng atau brlemak, kopi kari, makanan masam, cili, lada sulah, buah-buahan dan minuman sejuk.
Ubat ini manis dan mudah diminum.
Sukatan:
Kanak-kanak lebih 6-16 tahun 2-3sudu the.
Kank-kanak 16 tahun ke atas da dewasa 4 sudu the.
Boleh didapati dari dispensary, kedai-kedai ubat, pasaraya dan kedai runcit.
FORMULA
Each 5ml Contains
Syrup Tolutanus 4.16% V/V
Tincture Ipecacuanha 2.08% V/V
Soiution for Making Squill Elixir 2.08% V/V
Liquorice Liquid Extract 2.08% V/V
Strong Ammonium Acetate Solution 1.04% V/V
Solution for Making Wild
Cherry Syrup B.P. 208% V/V