Chan Yat Hing Five Loong Oil (38ml)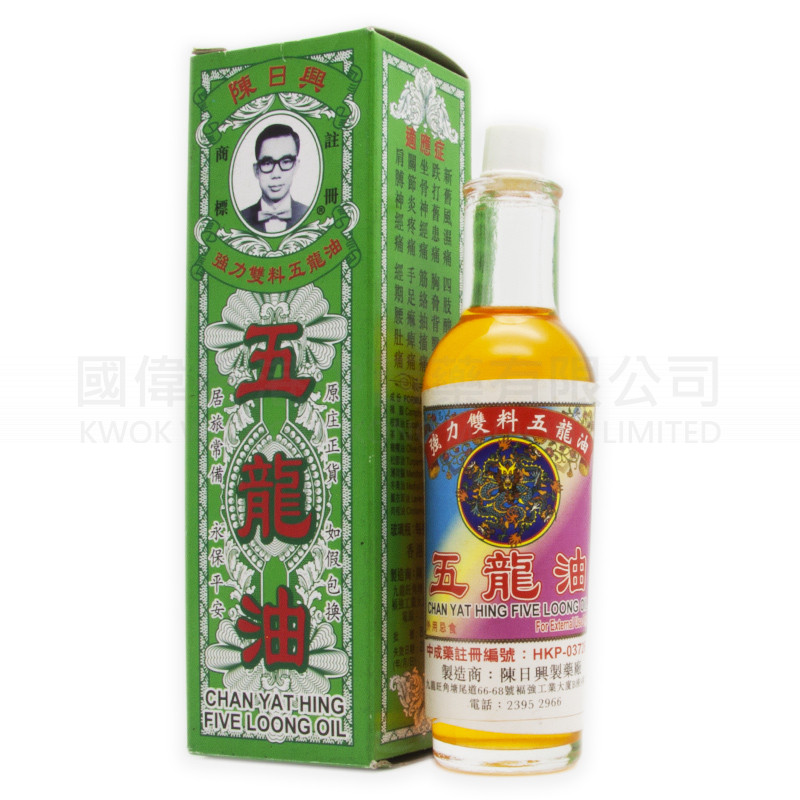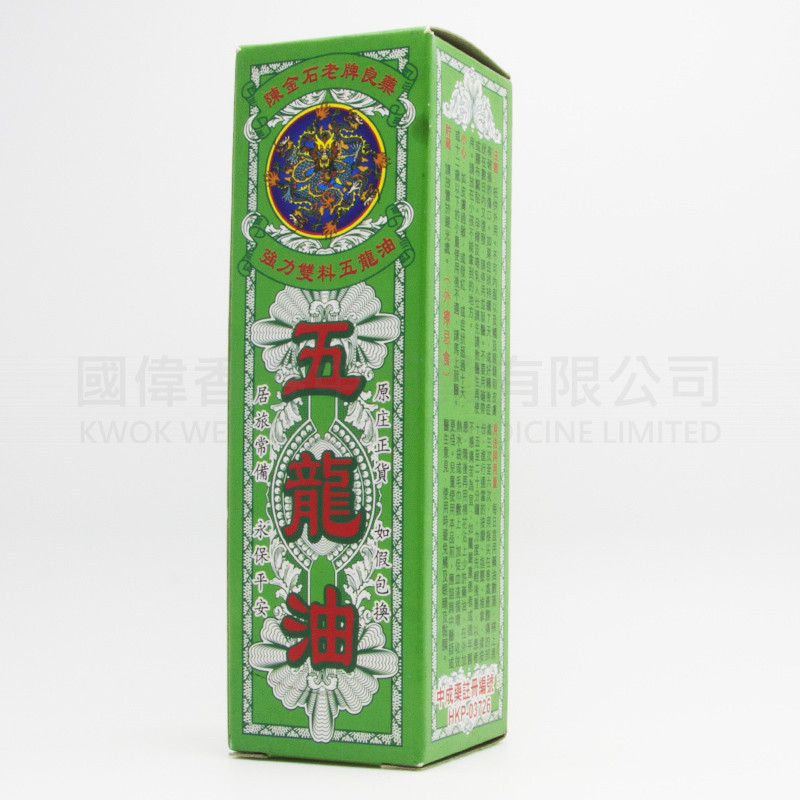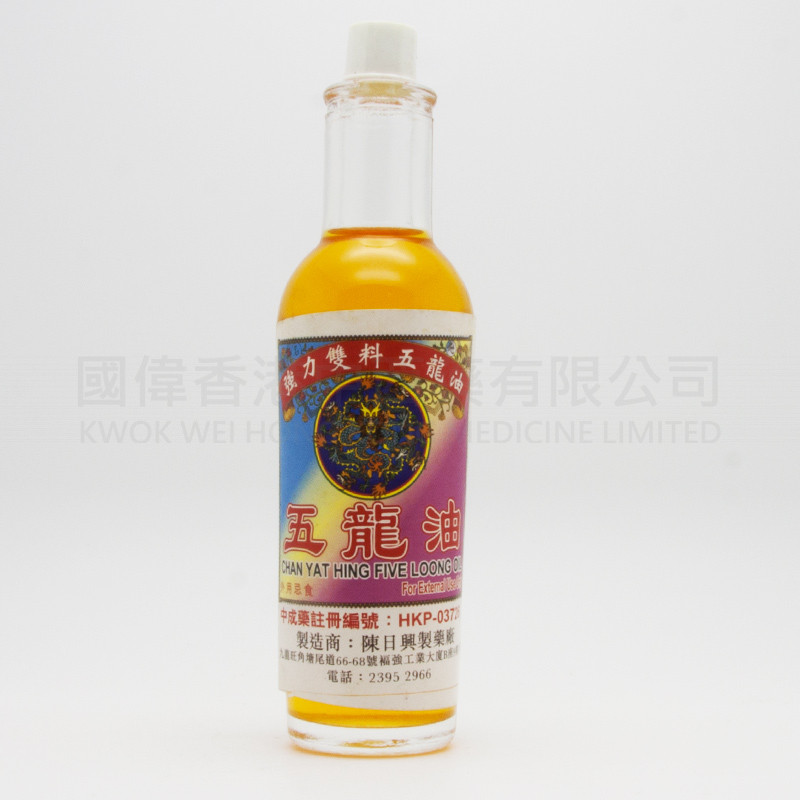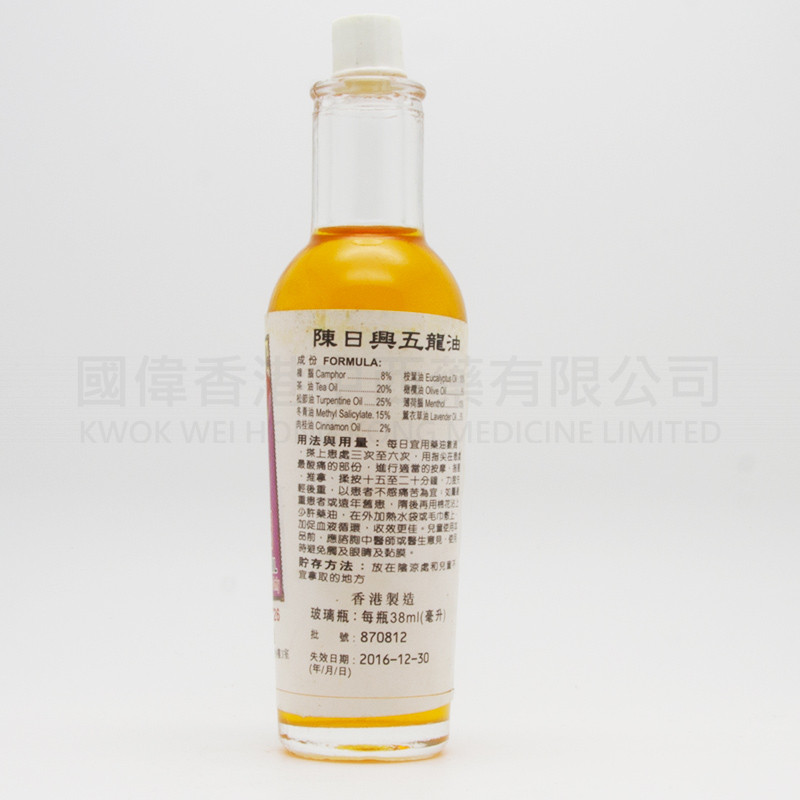 Chan Yat Hing Five Loong Oil (38ml)
Chen Rixing Wulong oil
Chen Rixing Wulong oil to help relieve the following symptoms:
Blood circulation, joint swelling and pain, excessive force, Yaosuanbeitong, the elderly dampness, bruises and sprains, dizziness, pain, swelling, Chest and rib back feathers, limbs limp, boat halo waves, acclimatized, dizziness, headache, headache, fever, heart and lung gas pass, mosquito bites, words hard to do, rely on the king to use, home travel, essential medicine.
Only suitable for children over the age of six and adult external, sensitive skin, do not use or compliance instructions.
Function: Huoxue pain, swelling.
Usage and dosage:
Apply a few drops of oil a day, paint on the affected area three to six times, with the fingertips in the affected part of the most ache, the appropriate massage, Shiatsu, massage, Rouan by fifteen to twenty minutes, , To patients do not feel the pain is appropriate; in the case of severe or long years old suffering, then re-use cotton coated with a little oil, in a hot water bottle or towel, plus blood anxious, better results. Children before using the product, should consult Chinese medicine practitioners or doctors advice, use to avoid touching the eyes and mucous membranes.
note:
This product contains methyl salicylate (wintergreen oil), the use of this product, please note the following:
1). Pregnant women, children and skin allergies to drugs with caution, or use the former consultation with the physician.
2) Children with colds, chickenpox or fever should avoid using methyl salicylate.
3) If you have an allergic reaction to methyl salicylate, consult your doctor or doctor before using this product.
4). If the use of red and sensitive, should be immediately disabled, avoid contact with the eyes and mucous membrane, such as the oil accidentally into the eyes, please rinse with water.
5) topical medicine, do not let children take.
Storage: Keep away from light.
Specification: 38ml (ml)
The smell of this drug oil fragrance distinctive, so when the purchase of all, please identify the number of Chen Xixing trademark and careful observation of drug oil smell Shu not mistaken.
Composition FORMULA:
Camphor Camphor 8%
Eucalyptus Oil 10%
Tea Oil 20%
Olive Oil Oilive Oil 5%
Turpentine Oil 25%
Menthol Menthol 10%
Methyl Salicylate 15%
Lavender Oil Lavender Oil 5%
Cinnamon Oil 2%